Description
The inhibitor switch is mounted on the transmission case. It includes the electric switch plate circuit and is directly connected with the transmission lever via transmission cable.
When the driver shifts the transmission lever, the contact point on the switch plate varies and the electric current process changes, and engages the gear intended by the driver.
In addition, the inhibitor switch cuts off power from the circuit to prevent the motor from running if the driver attempts to start the engine from any gear positions other than P or N.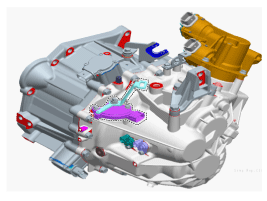 Inspection Refer to DTC code "P2765, P2766" Input Shaft Speed Sensor. Removal 1. Remove the under cover. 2. Disconnect the inp ...
Inspection 1. Inspect for loosened connectors, faulty connections, bends, corrosion, contamination, deformation, or damage. 2. Disconnec ...
See also:
Voice recognition
Voice recognition allows hands-free operation of the AV system (RADIO, CD, USB, iPod), navigation and other systems equipped on this vehicle, such as the phone. NOTE: To get the best recognition p ...
Side Impact Sensor (SIS). Repair procedures
Removal Side Impact Sensor 1. Disconnect the battery negative cable and wait for at least three minutes before beginning work. 2. Remo ...
Good driving practices
Never take the vehicle out of gear and coast down a hill. This is extremely hazardous. Always leave the vehicle in gear. Do not "ride" the brakes. This can cause them to overheat and ...