Description
The inhibitor switch is mounted on the transmission case. It includes the electric switch plate circuit and is directly connected with the transmission lever via transmission cable.
When the driver shifts the transmission lever, the contact point on the switch plate varies and the electric current process changes, and engages the gear intended by the driver.
In addition, the inhibitor switch cuts off power from the circuit to prevent the motor from running if the driver attempts to start the engine from any gear positions other than P or N.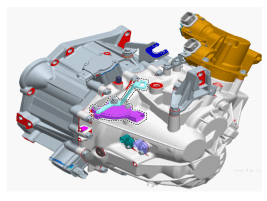 Inspection Refer to DTC code "P2765, P2766" Input Shaft Speed Sensor. Removal 1. Remove the under cover. 2. Disconnect the inp ...
Inspection 1. Inspect for loosened connectors, faulty connections, bends, corrosion, contamination, deformation, or damage. 2. Disconnec ...
See also:
Good braking practices
WARNING • Whenever you leave or park your vehicle, always set the parking brake as far as possible and fully engage the vehicle's transaxle into the P (Park) position. If the parking b ...
Description and Operation
Description The Dual Clutch Transmission (DCT) control system measures required data to identify the state of the control target and computes the appropriate compensation value if adjustment ...
Smart key function
1.Door lock 2.Door unlock 3.Trunk unlock 4.Panic With a smart key, you can lock or unlock a door (and trunk) and even start the engine without inserting the key. Refer to the following for more d ...