Description
Rail Pressure Sensor (RPS) is installed on the delivery pipe and measures the instantaneous fuel pressure in the delivery pipe. The sensing element (Semiconductor element) built in the sensor converts the pressure to voltage signal. By using this signal, the ECM can control correct injection amount and timing and adjusts the fuel pressure with the fuel pressure regulator valve if the target pressure and the actual pressure calculated by the RPS output signal are different.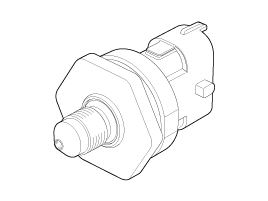 Inspection 1. Turn the ignition switch OFF. 2. Disconnect the HO2S connector. 3. Measure resistance between th ...
See also:
SRS components and functions
The SRS consists of the following components: 1. Driver's front air bag module 2. Passenger's front air bag module 3. Side impact air bag modules 4. Curtain air bag modules 5. Retractor p ...
Side Airbag (SAB) Module. Repair procedures
Removal The side airbag cannot be disassembled from the seat back assembly, so replace assembly when replacing the side airba ...
Rear combination lamp. Repair procedures
Removal Rear Combination lamp 1. Disconnect the negative (-) battery terminal. 2. Disconnect the connector (B) after loosening 2 screws, an ...
© 2011-2019 Copyright www.hvmanual.com