Description
Rail Pressure Sensor (RPS) is installed on the delivery pipe and measures the instantaneous fuel pressure in the delivery pipe. The sensing element (Semiconductor element) built in the sensor converts the pressure to voltage signal. By using this signal, the ECM can control correct injection amount and timing and adjusts the fuel pressure with the fuel pressure regulator valve if the target pressure and the actual pressure calculated by the RPS output signal are different.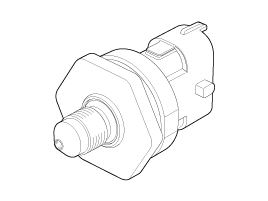 Inspection 1. Turn the ignition switch OFF. 2. Disconnect the HO2S connector. 3. Measure resistance between th ...
See also:
ETC (Electronic Throttle Control) System. Repair procedures
Inspection Throttle Position Sensor (TPS) 1. Connect the GDS on the Data Link Connector (DLC). 2. Start the engine and measure the output ...
Repair procedures
Inspection Manual Transaxle Oil Inspection 1. Park the vehicle on a level ground and stop the engine. 2. Retighten the o ...
Components and Components Location
Components 1. Driver Airbag (DAB) 2. Steering Wheel 3. Clock Spring 4. Passenger Airbag (PAB) 5. Side Airbag (SAB) 6. Curtain Airbag (CAB) 7. Seat Belt Pretension ...
© 2011-2019 Copyright www.hvmanual.com