You can easily store up to 12 preset stations for later recall at the touch of a button.
1. Select the band (FM, AM) you want to store a station into.
2. Select the desired frequency.
3. Touch [Presets] on the screen.
4.Touch and hold one of the preset buttons. The preset station information will be displayed. The selected preset station has been stored in memory. If you move to the previous/next page, touch ()/().
5. Repeat steps 1 and 4 to preset other stations. Next time, if you touch the preset buttons, the station is recalled from the memory.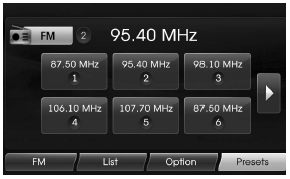 NOTE:
When a station is preset on the preset station button number on which another station of the same band has already been preset, the previously preset station is automatically erased.
В© 2011-2023 Copyright www.hvmanual.com