Specifications
Items




Specification




Fuel Tank




Capacity




50 lit. (13.2 U.S.gal., 52.8 U.S.qt., 43.9 Imp.qt.)




Fuel Filter




Type




Paper type




Fuel Pressure




Low Pressure Fuel Line




480 ~ 500 kPa (4.9 ~ 5.1 kgf/cm², 69.6 ~ 72.5 psi)




High Pressure Fuel Line




2.0 ~ 15.0 MPa (20.4 ~ 153.0 kgf/cm², 290.1 ~ 2175.6 psi)




Fuel Pump




Type




Electrical, in-tank type




Driven by




Electric motor




High Pressure Fuel Pump




Type




Mechanical type




Driven by




Camshaft



Manifold Absolute Pressure Sensor (MAPS)
▷ Type: Piezo-resistive pressure sensor type
Pressure




[kPa (kgf/cm², psi)]




Output Voltage (V)




20.0 (0.20, 2.9)




0.79




46.7 (0.47, 6.77)




1.84




101.3 (1.03, 14.7)




4.0



Intake Air Temperature Sensor (IATS)
Temperature




Resistance (kΩ)




°C




°F




-40




-40




40.93 ~ 48.35




-20




-4




13.89 ~ 16.03




0




32




5.38 ~ 6.09




10




50




3.48 ~ 3.90




20




68




2.31 ~ 2.57




40




104




1.08 ~ 1.21




50




122




1.56 ~ 1.74




60




140




0.54 ~ 0.62




80




176




0.29 ~ 0.34



Engine Coolant Temperature Sensor (ECTS)
Temperature




Resistance (kΩ)




°C




°F




-40




-40




48.14




-20




-4




14.13 ~ 16.83




0




32




5.79




20




68




2.31 ~ 2.59




40




104




1.15




60




140




0.59




80




176




0.32



Throttle Position Sensor (TPS) [integrated into ETC module]
▷ Type: Hall IC Non-contact sensor type
Throttle angle(°)




Output Voltage (V)




TPS1




TPS2




0




0.5




4.5




10




0.96




4.05




20




1.41




3.59




30




1.87




3.14




40




2.32




2.68




50




2.78




2.23




60




3.23




1.77




70




3.69




1.32




80




4.14




0.86




90




4.6




0.41




98




4.65




0.35




C.T (0)




0.5




4.5




W.O.T (86)




4.41




0.59



Crankshaft Position Sensor (CKPS)
▷ Type: Magnetic field sensitive Type
| | |
| --- | --- |
| Item | Specification |
| Coil Resistance (Ω) | 774 ~ 946 [20°C (68°F)] |
Camshaft Position Sensor (CMPS)
▷ Type: Piezo-electricity type
| | |
| --- | --- |
| Item | Specification |
| Capacitance (pF) | 950 ~ 1,350 |
| Resistance(MΩ) | 4.87 |
Heated Oxygen Sensor (HO2S) [Bank 1/Sensor 1]
▷ Type: Zirconia (ZrO2) [Linear] Type
| | |
| --- | --- |
| Item | Specification |
| Heater Resistance (Ω) | 2.4 ~ 4.0 [20°C(69.8°F)] |
Heated Oxygen Sensor (HO2S) [Bank 1/Sensor 2]
▷ Type: Zirconia (ZrO2) [Binary] Type
| | |
| --- | --- |
| A/F Ratio (λ) | Output Voltage(V) |
| RICH | 0.6 ~ 1.0 |
| LEAN | 0 ~ 0.4 |
| | |
| --- | --- |
| Item | Specification |
| Heater Resistance (Ω) | Approx. 9.0 [21°C(69.8°F)] |
Rail Pressure Sensor (RPS)
▷ Type: Piezo-electricity type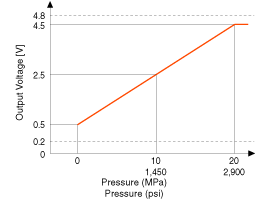 Accelerator Position Sensor (APS)
▷ Type: Variable resistor type
Accelerator




Position




Output Voltage (V)




APS1




APS2




C.T




0.7 ~ 0.8




0.29 ~ 0.46




W.O.T




3.85 ~ 4.35




1.93 ~ 2.18



Fuel Tank Pressure Sensor (FTPS)
▷ Type: Piezo - Resistivity type
Pressure




[kPa (kgf/cm², in H2O)




Output Voltage (V)




-6.67 (-0.068, -26.8)




0.5




0




2.5




+6.67 (0.068, 26.8)




4.5



| | |
| --- | --- |
| Item | Specification |
| Coil Resistance (Ω) | 1.5 [20°C(68°F)] |
ETC Motor [integrated into ETC Module]
| | |
| --- | --- |
| Item | Specification |
| Coil Resistance (Ω) | 0.3 ~ 100 [20°C(68°F)] |
Purge Control Solenoid Valve (PCSV)
| | |
| --- | --- |
| Item | Specification |
| Coil Resistance (Ω) | 22.0 ~ 26.0 [20°C(68°F)] |
CVVT Oil Control Valve (OCV)
| | |
| --- | --- |
| Item | Specification |
| Coil Resistance (Ω) | 6.9 ~ 7.9 [20°C(68°F)] |
Variable Intake Solenoid (VIS) Valve
| | |
| --- | --- |
| Item | Specification |
| Coil Resistance (Ω) | 30.0 ~ 35.0 [20°C(68°F)] |
Fuel Pressure Regulator Valve
| | |
| --- | --- |
| Item | Specification |
| Coil Resistance (Ω) | 0.5 [20°C(68°F)] |
| | |
| --- | --- |
| Item | Specification |
| Primary Coil Resistance (Ω) | 0.75 ± 15%[20°C(68°F)] |
| Secendary Coil Resistance (kΩ) | 5.9 [20°C(68°F)] |
Canister Close Valve (CCV)
| | |
| --- | --- |
| Item | Specification |
| Coil Resistance (Ω) | 19.5 ~ 22.5 [20°C(68°F)] |
Service Standard
Item




Specification




Ignition Timing (°)




BTDC 5 ± 10




Idle Speed (rpm)




A/C OFF




Neutral, N, P-range




630 ± 100




D-range




630 ± 100




A/C ON




Neutral, N, P-range




700 ± 100




D-range




700 ± 100



Tightening Torques
Engine Control System
| | | | |
| --- | --- | --- | --- |
| Item | kgf.m | N.m | lb-ft |
| ECM installation nut | 1.0 ~ 1.2 | 9.8 ~ 11.8 | 7.2 ~ 8.7 |
| ECM bracket installation bolt/nut | 1.0 ~ 1.2 | 9.8 ~ 11.8 | 7.2 ~ 8. |
| Manifold absolute pressure sensor installation bolt | 1.0 ~ 1.2 | 9.8 ~ 11.8 | 7.2 ~ 8.7 |
| Engine Coolant Temperature Sensor installation | 3.0 ~ 4.0 | 29.4 ~ 39.2 | 21.7 ~ 28.9 |
| Crankshaft position sensor installation bolt | 0.8 ~ 1.2 | 7.8 ~ 11.8 | 5.8 ~ 8.7 |
| Camshaft position sensor (Bank 1 / Intake) installation bolt | 0.8 ~ 1.2 | 7.8 ~ 11.8 | 5.8 ~ 8.7 |
| Camshaft position sensor (Bank 1 / Exhaust) installation bolt | 0.8 ~ 1.2 | 7.8 ~ 11.8 | 5.8 ~ 8.7 |
| Knock sensor installation bolt | 1.9 ~ 2.5 | 18.6 ~ 24.5 | 13.7 ~ 18.1 |
| Heated oxygen sensor (Bank 1 / sensor 1) installation | 4.0 ~ 5.0 | 39.2 ~ 49.1 | 28.9 ~ 36.2 |
| Heated oxygen sensor (Bank 1 / sensor 2) installation | 4.0 ~ 5.0 | 39.2 ~ 49.1 | 28.9 ~ 36.2 |
| Rail pressure sensor installation | 3.0 ~ 3.5 | 29.4 ~ 34.3 | 21.7 ~ 25.3 |
| Electronic throttle body installation bolt | 1.0 ~ 1.2 | 9.8 ~ 11.8 | 7.2 ~ 8.7 |
| Purge control solenoid valve bracket installation bolt | 1.0 ~ 1.2 | 9.8 ~ 11.8 | 7.2 ~ 8.7 |
| CVVT oil control valve (Bank 1 / Intake) installation bolt | 1.0 ~ 1.2 | 9.8 ~ 11.8 | 7.2 ~ 8.7 |
| CVVT oil control valve (Bank 1 / Exhaust) installation bolt | 1.0 ~ 1.2 | 9.8 ~ 11.8 | 7.2 ~ 8.7 |
| Ignition coil installation bolt | 1.0 ~ 1.2 | 9.8 ~ 11.8 | 7.2 ~ 8.7 |
Fuel Delivery System
| | | | |
| --- | --- | --- | --- |
| Item | kgf.m | N.m | lb-ft |
| Fuel tank installation nut | 4.0 ~ 5.5 | 39.2 ~ 54.0 | 28.9 ~ 39.8 |
| Fuel pump plate cover installation bolt | 0.2 ~ 0.3 | 2.0 ~ 2.9 | 1.4 ~ 2.2 |
| Filler-neck assembly bracket installation bolt | 0.8 ~ 1.2 | 7.8 ~ 11.8 | 5.8 ~ 8.7 |
| Filler-neck assembly installation bolt | 0.8 ~ 1.2 | 7.8 ~ 11.8 | 5.8 ~ 8.7 |
| Accelerator pedal module installation nut | 1.0 ~ 1.5 | 9.8 ~ 14.7 | 7.2 ~ 10.8 |
| Accelerator pedal module installation bolt | 0.9 ~ 1.4 | 8.8 ~ 13.7 | 6.5 ~ 10.1 |
| Delivery pipe installation bolt | 1.9 ~ 2.4 | 18.6 ~ 23.5 | 13.7 ~ 17.4 |
| High pressure fuel pump installation bolt | 1.3 ~ 1.5 | 12.8 ~ 14.7 | 9.4 ~ 10.9 |
| High pressure fuel pipe installation nut | 2.7 ~ 3.3 | 26.5 ~ 32.4 | 19.5 ~ 23.9 |
| High pressure fuel pipe function block installation bolt | 1.0 ~ 1.2 | 9.8 ~ 11.8 | 7.2 ~ 8.7 |
Special Service Tools Item Illustration Application Fuel Pressure Gauge (09353-24100) Measuring the fuel line press ...
See also:
Room Lamp. Repair procedures
Removal Vanity Lamp 1. Disconnect the negative (-) battery terminal. 2. Remove the vanity lamp assembly after disconnecting the connector. ...
Vehicle data collection and event data recorders
This vehicle is equipped with an event data recorder (EDR). The main purpose of an EDR is to record, in certain crash or near crash-like situations, such as an air bag deployment or hitting a road ...
Remote keyless entry system operations
Lock (1) All doors are locked if the lock button is pressed. If all doors, trunk and hood are closed, the hazard warning lights will blink once to indicate that all doors are locked. Also, if ...