Description
The input shaft speed sensor is important in that it detects the input shaft RPM and sends this information to the TCM. It provides important input information for electric control.
The information is needed in all operations, including feedback control, gear shift control and failure detection of other sensors.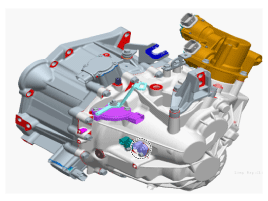 Inspection 1. Turn off the ignition switch. 2. Disconnect the gear actuator motor connector. 3. Measure the ...
Inspection Refer to DTC code "P2765, P2766" Input Shaft Speed Sensor. Removal 1. Remove the under cover. 2. Disconnect the inp ...
See also:
Components and Components Location
Components Location 1. PCV valve 2. Canister 3. Purge Control Solenoid Valve (PCSV) 4. Fuel Tank Pressure Sensor (FTPS) 5. Canister Close Valve (CCV) 6. Fuel ...
Canister Close Valve (CCV). Schematic Diagrams
Circuit Diagram ...
Care of disc
If the temperature inside the car is too high, open the car windows for ventilation before using your car audio. It is illegal to copy and use MP3/WMA files without permission. Use CDs that ...
© 2011-2019 Copyright www.hvmanual.com