Description
The starting system includes the battery, starter, solenoid switch, ignition switch, inhibitor switch (A/T), ignition lock switch, connection wires and the battery cable.
When the ignition key is turned to the start position, current flows and energizes the starter motor's solenoid coil.
The solenoid plunger and clutch shift lever are activated, and the clutch pinion engages the ring gear.
The contacts close and the starter motor cranks. In order to prevent damage caused by excessive rotation of the starter armature when the engine starts, the clutch pinion gear overruns.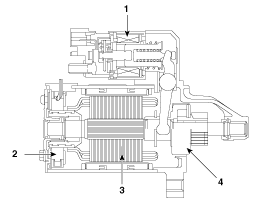 1. Solenoid
2. Brush
3. Armature
4. Overrun clutch
Troubleshooting Starter Circuit The battery must be in good condition and fully charged. 1. Remove ...
See also:
IPM (Intelligent integrated Platform Module). Specifications
Specifications Items Specifications Rated voltage DC 12V Operating voltage DC 9 ~ 16V Operating temp ...
Emergency tailgate safety release
Your vehicle is equipped with the emergency tailgate safety release located on the bottom of the tailgate. When someone is inadvertently locked in the luggage compartment, the tailgate can be op ...
Cruise Control Switch
Repair procedures Removal and Installation 1. Disconnect the battery negative terminal. 2. Remove the driver airbag module. (Refer to the RT g ...