Description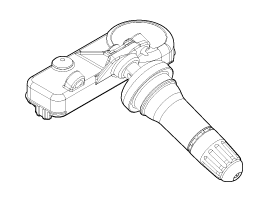 | | |
| --- | --- |
| 1. | Tire pressure, Temperature, Acceleration, Battery voltage measurement |
2.

RF (Radio Frequency) Transmit (Tire pressure, Temperature, Acceleration, Battery voltage,Sensor ID, Sensor Status information.)

| | |
| --- | --- |
| B. | RF Modulation – FSK (Frequency shift keying) way |
Operation
Operating mod
OFF mod




| | |
| --- | --- |
| • | Air pressure sample : 60 sec |

| | |
| --- | --- |
| • | Temperature sample : 60 sec• |

| | |
| --- | --- |
| • | Exit – LF command or pressure change of. 19 psi |

Stationary mod




| | |
| --- | --- |
| • | Entry – From OFF mod or when no motion detected |

| | |
| --- | --- |
| • | Air pressure sample : 60 sec |

| | |
| --- | --- |
| • | Temperature sample : 60 sec |

| | |
| --- | --- |
| • | Exit – When detected motion by sensor & verified |

AL (Auto learning) mod




| | |
| --- | --- |
| • | |

| | |
| --- | --- |
| • | Air pressure sample : 10.8 sec |

| | |
| --- | --- |
| • | Temperature sample : 10.8 sec |

| | |
| --- | --- |
| • | |

| | |
| --- | --- |
| • | Exit – Transmission of 16 blocks |

Roll mod




| | |
| --- | --- |
| • | Air pressure sample : 15 sec |

| | |
| --- | --- |
| • | Temperature sample : 15 sec |

| | |
| --- | --- |
| • | Exit – no further motion detected |

Service mod




| | |
| --- | --- |
| • | Entry – Speed below detection level |

| | |
| --- | --- |
| • | Air pressure sample : 15 sec |

| | |
| --- | --- |
| • | Temperature sample : 15 sec |

| | |
| --- | --- |
| • | Exit – Further motion detected |

RF test mod




| | |
| --- | --- |
| • | Air pressure sample : 15 sec |

| | |
| --- | --- |
| • | Temperature sample : 15 sec |

| | |
| --- | --- |
| • | Exit – Following 8hrs duration |

Alter mod




| | |
| --- | --- |
| • | Entry – Detection of pressure change |

| | |
| --- | --- |
| • | Air pressure sample : 2 sec |

| | |
| --- | --- |
| • | Temperature sample : 2 sec |

| | |
| --- | --- |
| • | Exit – Following 2 pressure sample or pressure |
System self diagnosis Possible to detect abnormal situations from Sensor data • High Temperature – Sensor's temperature is more than 100 °C • ...
Replacement 1. Remove the valve core and deflate the tire. 2. Remove the side of the tire bead area from the wheel using tire changing mac ...
See also:
Emergency towing
If towing is necessary, we recommend you to have it done by an authorized Hyundai dealer or a commercial tow truck service. If towing service is not available in an emergency, your vehicle may be ...
Glove box lamp
The glove box lamp comes on when the glove box is opened. CAUTION To prevent unnecessary charging system drain, close the glove box securely after using the glove box. ...
Description and Operation
Operation and Leakage Check Check all of the following items: Component Procedure Brake Booster (A) Check brake operation by applyin ...
© 2011-2019 Copyright www.hvmanual.com