Description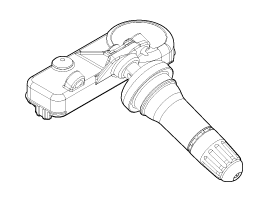 | | |
| --- | --- |
| 1. | Tire pressure, Temperature, Acceleration, Battery voltage measurement |
2.

RF (Radio Frequency) Transmit (Tire pressure, Temperature, Acceleration, Battery voltage,Sensor ID, Sensor Status information.)

| | |
| --- | --- |
| B. | RF Modulation – FSK (Frequency shift keying) way |
Operation
Operating mod
OFF mod




| | |
| --- | --- |
| • | Air pressure sample : 60 sec |

| | |
| --- | --- |
| • | Temperature sample : 60 sec• |

| | |
| --- | --- |
| • | Exit – LF command or pressure change of. 19 psi |

Stationary mod




| | |
| --- | --- |
| • | Entry – From OFF mod or when no motion detected |

| | |
| --- | --- |
| • | Air pressure sample : 60 sec |

| | |
| --- | --- |
| • | Temperature sample : 60 sec |

| | |
| --- | --- |
| • | Exit – When detected motion by sensor & verified |

AL (Auto learning) mod




| | |
| --- | --- |
| • | |

| | |
| --- | --- |
| • | Air pressure sample : 10.8 sec |

| | |
| --- | --- |
| • | Temperature sample : 10.8 sec |

| | |
| --- | --- |
| • | |

| | |
| --- | --- |
| • | Exit – Transmission of 16 blocks |

Roll mod




| | |
| --- | --- |
| • | Air pressure sample : 15 sec |

| | |
| --- | --- |
| • | Temperature sample : 15 sec |

| | |
| --- | --- |
| • | Exit – no further motion detected |

Service mod




| | |
| --- | --- |
| • | Entry – Speed below detection level |

| | |
| --- | --- |
| • | Air pressure sample : 15 sec |

| | |
| --- | --- |
| • | Temperature sample : 15 sec |

| | |
| --- | --- |
| • | Exit – Further motion detected |

RF test mod




| | |
| --- | --- |
| • | Air pressure sample : 15 sec |

| | |
| --- | --- |
| • | Temperature sample : 15 sec |

| | |
| --- | --- |
| • | Exit – Following 8hrs duration |

Alter mod




| | |
| --- | --- |
| • | Entry – Detection of pressure change |

| | |
| --- | --- |
| • | Air pressure sample : 2 sec |

| | |
| --- | --- |
| • | Temperature sample : 2 sec |

| | |
| --- | --- |
| • | Exit – Following 2 pressure sample or pressure |
System self diagnosis Possible to detect abnormal situations from Sensor data • High Temperature – Sensor's temperature is more than 100 °C • ...
Replacement 1. Remove the valve core and deflate the tire. 2. Remove the side of the tire bead area from the wheel using tire changing mac ...
See also:
Winter driving
More severe weather conditions of winter result in greater wear and other problems. To minimize winter driving problem, you should follow these suggestions: Snowy or icy conditions To drive your ...
Cruise Control Switch
Repair procedures Removal and Installation 1. Disconnect the battery negative terminal. 2. Remove the driver airbag module. (Refer to the RT g ...
DCT Control Modle (TCM) > Description and Operation
Description The Transmission Control Module (TCM) is like the brain for the DCT. It receives information from various sensors for a wide range of transmission controls to provide an optimal ...
© 2011-2018 Copyright www.hvmanual.com