Component (1)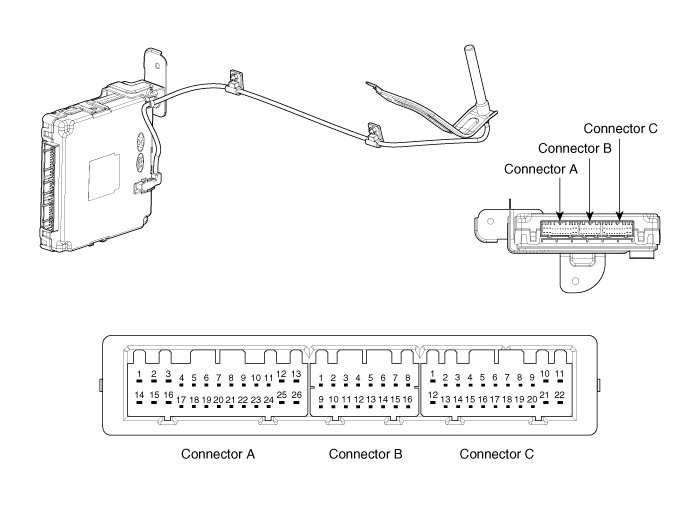 Connector Pin Information
No.




Connector A(26 pins)




No.




Connector B(16 pins)




No.




Connector C(22 pins)




1




Battery power load




1




CAN L




1




Start/Stop button switch ILL




2




-




2




CAN H




2




Immobilizer IND




3




Power ground 1




3




-




3




Start/Stop button LED OFF




4




IGN 1




4




Stop lamp fuse




4




Interior antenna #2 power




5




IGN 1 relay




5




Brake switch




5




Interior antenna #1 power




6




ACC




6




Immobilizer antenna power




6




-




7




IGN 2




7




-




7




-




8




Start/Stop button switch 2




8




Wheel speed




8




Trunk antenna power




9




-




9




Driver toggle button




9




Bumper antenna power




10




-




10




-




10




Assistant antenna power




11




ESCL COM




11




External buzzer




11




Driver antenna power




12




CAN H




12




P position / Clutch switch




12




SSB LED IGN




13




CAN L




13




Start feedback




13




SSB illumination power




14




Battery CPU




14




Immobilizer antenna ground




14




-




15




-




15




Diagnostic - K




15




Interior antenna #2 ground




16




Power ground 2




16




Start/Stop button switch LED




16




Interior antenna #1 ground




17




Starter relay




 




 




17




-




18




IGN 2 relay




18




-




19




ACC relay




19




Trunk antenna ground




20




-




20




Bumper antenna ground




21




Trunk lid switch




21




Assistant antenna ground




22




-




22




Driver antenna ground




23




RPM




 




 




24




EMS COM




25




Start/Stop button switch 1




26




Assistant toggle button



Smart Key Smart Key Code Saving 1. Connect the DLC cable of GDS to the data link connector in driver side crash pad lower panel, turn the power on GDS. ...
See also:
Economical operation
Your vehicle's fuel economy depends mainly on your style of driving, where you drive and when you drive. Each of these factors affects how many miles (kilometers) you can get from a gallon (l ...
Troubleshooting
Troubleshooting Symptom Suspect Area Remedy Water leaks from panoramaroof Deteriorated roof lid weatherstrip Replace ...
Giving voice commands
1. Press () on the steering wheel remote control. 2. After the beep sounds, say "Help". All commands shall be listed which are presented in active fields. NOTE: If the command is n ...
В© 2011-2019 Copyright www.hvmanual.com