Component (1)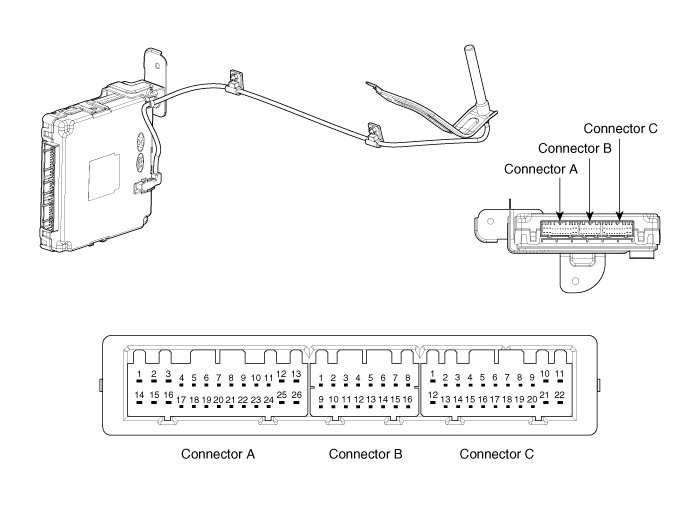 Connector Pin Information
No.




Connector A(26 pins)




No.




Connector B(16 pins)




No.




Connector C(22 pins)




1




Battery power load




1




CAN L




1




Start/Stop button switch ILL




2




-




2




CAN H




2




Immobilizer IND




3




Power ground 1




3




-




3




Start/Stop button LED OFF




4




IGN 1




4




Stop lamp fuse




4




Interior antenna #2 power




5




IGN 1 relay




5




Brake switch




5




Interior antenna #1 power




6




ACC




6




Immobilizer antenna power




6




-




7




IGN 2




7




-




7




-




8




Start/Stop button switch 2




8




Wheel speed




8




Trunk antenna power




9




-




9




Driver toggle button




9




Bumper antenna power




10




-




10




-




10




Assistant antenna power




11




ESCL COM




11




External buzzer




11




Driver antenna power




12




CAN H




12




P position / Clutch switch




12




SSB LED IGN




13




CAN L




13




Start feedback




13




SSB illumination power




14




Battery CPU




14




Immobilizer antenna ground




14




-




15




-




15




Diagnostic - K




15




Interior antenna #2 ground




16




Power ground 2




16




Start/Stop button switch LED




16




Interior antenna #1 ground




17




Starter relay




 




 




17




-




18




IGN 2 relay




18




-




19




ACC relay




19




Trunk antenna ground




20




-




20




Bumper antenna ground




21




Trunk lid switch




21




Assistant antenna ground




22




-




22




Driver antenna ground




23




RPM




 




 




24




EMS COM




25




Start/Stop button switch 1




26




Assistant toggle button



Smart Key Smart Key Code Saving 1. Connect the DLC cable of GDS to the data link connector in driver side crash pad lower panel, turn the power on GDS. ...
See also:
Heated Oxygen Sensor (HO2S). Repair procedures
Inspection 1. Turn the ignition switch OFF. 2. Disconnect the HO2S connector. 3. Measure resistance between th ...
Power outlet
The power outlet is designed to provide power for mobile telephones or other devices designed to operate with vehicle electrical systems. The devices should draw less than 10 amps with the engin ...
Camshaft Position Sensor (CMPS). Description and Operation
Description Camshaft Position Sensor (CMPS) is a hall sensor and detects the camshaft position by using a hall element. It is related with Crankshaft Position Sensor (CKPS) and detects the ...
© 2011-2019 Copyright www.hvmanual.com