System Block Diagram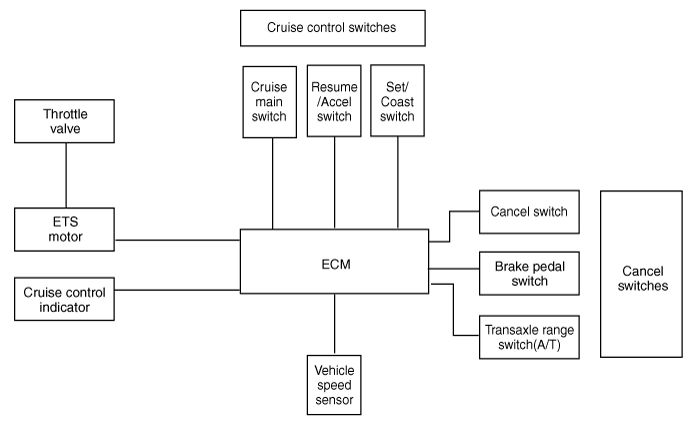 Component Parts And Function Outline
Component part




Function




Vehicle-speed sensor




Converts vehicle speed to pulse.




ECM




Receives signals from sensor and control switches.




Cruise control indicator




Illuminate when CRUISE main switch is ON (Built into cluster)




Cruise Control switches




ON/OFF switch




Switch for automatic speed control power supply.




Resume/Accel switch




Controls automatic speed control functions by Resume/Accel switch (Set/Coast switch)




Set/Coast switch




Cancel switches




Cancel switch




Sends cancel signals to ECM.




Brake-pedal switch




Transaxle range switch (A/T)




ETS motor




Regulates the throttle valve to the set opening by ECM.



* ETS : Electronic Throttle System
Cruise Control The cruise control system is engaged by the cruise "ON/OFF" main switch located on right of steering wheel column. The system has the capability to cruise, coast, ac ...
See also:
Panoramaroof. Components and Components Location
Components 1. Movable glass assembly 2. Wind deflector assembly 3. Mechanism rail assembly 4. Panoramaroof frame assembly 5. Roller blind support lower assembly 6. R ...
If the engine overheats
If your temperature gauge indicates overheating, you experience a loss of power, or hear loud pinging or knocking, the engine is probably too hot. If this happens, you should: 1. Pull off the roa ...
Manual climate control system
1. Turn the ignition switch to the ON position. 2. Select the defrost button (). 3. Press the air intake control button at least 5 times within 3 seconds. The indicator on the air intake button ...
В© 2011-2019 Copyright www.hvmanual.com