Be sure that all necessary tools and measuring equipment are available starting work.
Special Tools
Use special tools when they are required.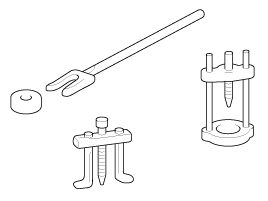 Removal Of Parts
First find the cause of the problem and then determine whether removal or disassembly before starting the job.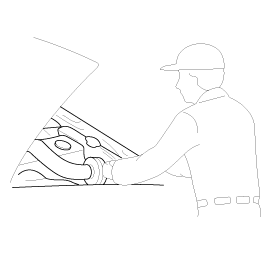 Disassembly
If the disassembly procedure is complex, requiring many parts to be disassembled, all parts should be disassembled in a way that will not affect their performance or external appearance.
| | |
| --- | --- |
| 1. | Each part, when removed, should be carefully on suspected for malfunction, deformation, damage, and other problems. |
2.

All disassembled parts should be carefully arranged for effective reassembly.

Be sure to separate and correctly identify the parts to be replaced from those that will be used again.
| | |
| --- | --- |
| 3. | All parts to be used again should be carefully and thoroughly cleaned by an appropriate method. |
Protection Of The Vehicle Always be sure to cover fenders, seats, and floor areas before starting work. The support rod m ...
When replacing parts, use HYUNDAI genuine parts. Replacement Standard values, such as torques and certain adjustments, must be strictly observed in the reassembly of all parts. If r ...
See also:
Catalytic Converter. Description and Operation
Description The catalytic converter of the gasoline engine is a three way catalyst. It oxidizes carbon monoxide and hydrocarbons (HC), and separates oxygen from the oxides of nitrogen (NOx). ...
For best battery service
Keep the battery securely mounted. Keep the battery top clean and dry. Keep the terminals and connections clean, tight, and coated with petroleum jelly or terminal grease. Rinse any spil ...
Purge Control Solenoid Valve (PCSV). Repair procedures
Inspection 1. Turn the ignition switch OFF. 2. Disconnect the PCSV connector. 3. Measure resistance between th ...