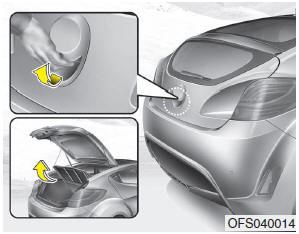 The tailgate is locked or unlocked when all doors are locked or unlocked with the key, transmitter, smart key or central door lock/unlock switch.
When all doors are lock if the tailgate unlock button on the smart key is pressed for more than 1 second, the tailgate is unlocked. Once the tailgate is opened and then closed, the tailgate is locked automatically. If unlocked, the tailgate can be opened by pressing the handle and pulling it up.
✽ NOTICE
Х In cold and wet climates door lock and door mechanisms may not work properly due to freezing conditions.
Х When jacking up the vehicle to change a tire or repair the vehicle, do not operate the tailgate. This could cause the tailgate to close improperly.
CAUTION
Do not put any heavy object on the covering shelf. It may damage the covering shelf.
WARNING
Х Do not put any object on the covering shelf. If the vehicle suddenly stops or makes a curve, the object may injure passengers.
Х Watch out for the edge of the covering shelf, when you are using the luggage room.You may injure yourself.
Х While operating the engine or when you turn off the engine, be careful not to damage when you open the tailgate. The bumper may be heated by exhaust gas.
© 2011-2019 Copyright www.hvmanual.com