Description
Intake Air Temperature Sensor (IATS) is included inside Manifold Absolute Pressure Sensor and detects the intake air temperature.
To calculate precise air quantity, correction of the air temperature is needed because air density varies according to the temperature. So the ECM uses not only MAPS signal but also IATS signal. This sensor has a Negative Temperature Coefficient (NTC) Thermister and it's resistance changes in reverse proportion to the temperature.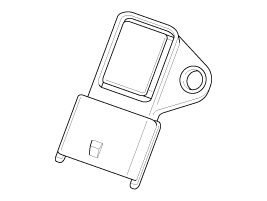 Inspection 1. Connect the GDS on the Data Link Connector (DLC). 2. Measure the output voltage of the MAPS at idle and IG ON. ...
Specification Temperature Resistance (kΩ) °C °F -40 -40 40.93 ~ 48.35 -20 ...
See also:
Fuel requirements
Your new vehicle is designed to use only unleaded fuel having a pump octane number ((R+M)/2) of 87 (Research Octane Number 91) or higher. Your new vehicle is designed to obtain maximum performance ...
Manual climate control system
1. A/C (Air conditioning) button 2. Air intake control button 3. Rear window defroster button 4. Mode selection button 5. Fan speed control knob 6. Temperature control knob 7. Front windshield d ...
Manual Transaxle. Components and Components Location
Components 1. Transaxle support bracket 2. Control shaft complete 3. Back up lamp switch 4. Speedmeter ...
© 2011-2019 Copyright www.hvmanual.com