Description
The starting system includes the battery, starter, solenoid switch, ignition switch, inhibitor switch (A/T), ignition lock switch, connection wires and the battery cable.
When the ignition key is turned to the start position, current flows and energizes the starter motor's solenoid coil.
The solenoid plunger and clutch shift lever are activated, and the clutch pinion engages the ring gear.
The contacts close and the starter motor cranks. In order to prevent damage caused by excessive rotation of the starter armature when the engine starts, the clutch pinion gear overruns.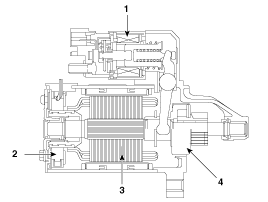 1. Solenoid
2. Brush
3. Armature
4. Overrun clutch
Troubleshooting Starter Circuit The battery must be in good condition and fully charged. 1. Remove ...
See also:
Exterior care
Exterior general caution It is very important to follow the label directions when using any chemical cleaner or polish. Read all warning and caution statements that appear on the label. Finish mai ...
Manual transaxle operation
The manual transaxle has 6 forward gears. This shift pattern is imprinted on the shift knob. The transaxle is fully synchronized in all forward gears so shifting to either a higher or a lower gea ...
Care of disc
If the temperature inside the car is too high, open the car windows for ventilation before using your car audio. It is illegal to copy and use MP3/WMA files without permission. Use CDs that ...