Description
The starting system includes the battery, starter, solenoid switch, ignition switch, inhibitor switch (A/T), ignition lock switch, connection wires and the battery cable.
When the ignition key is turned to the start position, current flows and energizes the starter motor's solenoid coil.
The solenoid plunger and clutch shift lever are activated, and the clutch pinion engages the ring gear.
The contacts close and the starter motor cranks. In order to prevent damage caused by excessive rotation of the starter armature when the engine starts, the clutch pinion gear overruns.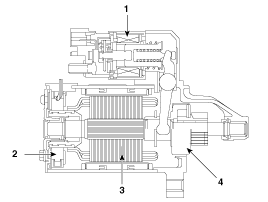 1. Solenoid
2. Brush
3. Armature
4. Overrun clutch
Troubleshooting Starter Circuit The battery must be in good condition and fully charged. 1. Remove ...
See also:
Disarmed stage
Using the smart key (if equipped) The system will be disarmed when the doors are unlocked by pressing the unlock button on the smart key or pressing the lock/unlock button of the front outside do ...
Troubleshooting
Troubleshooting Guide Before Thinking The Product Has Malfunctioned 1. Errors which occur during the operation or installation of the device may be mistaken as a malfu ...
Sliding the sunroof
Before opening or closing the sunroof, open the sunshade. To open or close the sunroof (manual slide feature), pull or push the sunroof control lever backward or forward. To open the sunroof aut ...