Description
The starting system includes the battery, starter, solenoid switch, ignition switch, inhibitor switch (A/T), ignition lock switch, connection wires and the battery cable.
When the ignition key is turned to the start position, current flows and energizes the starter motor's solenoid coil.
The solenoid plunger and clutch shift lever are activated, and the clutch pinion engages the ring gear.
The contacts close and the starter motor cranks. In order to prevent damage caused by excessive rotation of the starter armature when the engine starts, the clutch pinion gear overruns.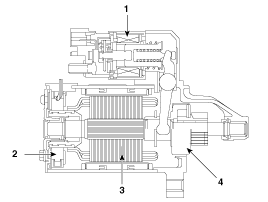 1. Solenoid
2. Brush
3. Armature
4. Overrun clutch
Troubleshooting Starter Circuit The battery must be in good condition and fully charged. 1. Remove ...
See also:
Heated Oxygen Sensor (HO2S). Repair procedures
Inspection 1. Turn the ignition switch OFF. 2. Disconnect the HO2S connector. 3. Measure resistance between th ...
Binding arbitration
Any claim or dispute you may have related to your vehicle's warranty or the duties contemplated under the warranty, including claims related to the refund or partial refund of your vehicle' ...
Repair procedures
Inspection Steering Wheel Play Inspection 1. Turn the steering wheel so that the front wheels can face straight ahead. 2. Measure the ...