Description
The starting system includes the battery, starter, solenoid switch, ignition switch, inhibitor switch (A/T), ignition lock switch, connection wires and the battery cable.
When the ignition key is turned to the start position, current flows and energizes the starter motor's solenoid coil.
The solenoid plunger and clutch shift lever are activated, and the clutch pinion engages the ring gear.
The contacts close and the starter motor cranks. In order to prevent damage caused by excessive rotation of the starter armature when the engine starts, the clutch pinion gear overruns.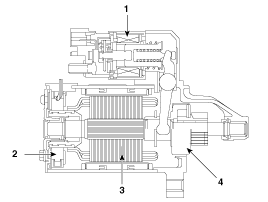 1. Solenoid
2. Brush
3. Armature
4. Overrun clutch
Troubleshooting Starter Circuit The battery must be in good condition and fully charged. 1. Remove ...
See also:
Description and Operation
Operation and Leakage Check Check all of the following items: Component Procedure Brake Booster (A) Check brake operation by applyin ...
Defogging logic
To reduce the probability of fogging up the inside of the windshield, the air intake or air conditioning are controlled automatically according to certain conditions such as or position.To canc ...
Smart key precautions
• The smart key will not work if any of the following occur: - The smart key is close to a radio transmitter such as a radio station or an airport which can interfere with normal operation of the ...