Description
The starting system includes the battery, starter, solenoid switch, ignition switch, inhibitor switch (A/T), ignition lock switch, connection wires and the battery cable.
When the ignition key is turned to the start position, current flows and energizes the starter motor's solenoid coil.
The solenoid plunger and clutch shift lever are activated, and the clutch pinion engages the ring gear.
The contacts close and the starter motor cranks. In order to prevent damage caused by excessive rotation of the starter armature when the engine starts, the clutch pinion gear overruns.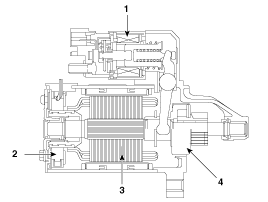 1. Solenoid
2. Brush
3. Armature
4. Overrun clutch
Troubleshooting Starter Circuit The battery must be in good condition and fully charged. 1. Remove ...
See also:
Rear window wiper and washer switch
The rear window wiper and washer switch is located at the end of the wiper and washer switch lever. Turn the switch to desired position to operate the rear wiper and washer. - Normal wiper oper ...
Summer tires
HYUNDAI specifies summer tires on some models to provide superior performance on dry roads. Summer tire performance is substantially reduced in snow and ice. Summer tires do not have the tire trac ...
To connect using the phone settings
Your phone's Bluetooth feature may be set to off by default. To use the Bluetooth feature, Bluetooth must be turned on in your phone. Refer to your phone's user guide. 1. Enable the phone ...