Description
Knocking is a phenomenon characterized by undesirable vibration and noise and can cause engine damage. Knock Sensor (KS) is installed on the cylinder block and senses engine knocking.
When knocking occurs, the vibration from the cylinder block is applied as pressure to the piezoelectric element. When a knock occurs, the sensor produces voltage signal. The ECM retards the ignition timing when knocking occurs. If the knocking disappears after retarding the ignition timing, the ECM will advance the ignition timing. This sequential control can improve engine power, torque and fuel economy.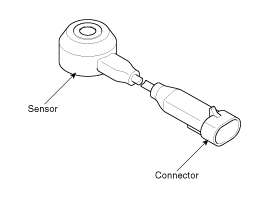 Inspection 1. Check the signal waveform of the CMPS and CKPS using the GDS. Specification: Refer to "Wave Form" ...
Specification Item Specification Capacitance (pF) 950 ~ 1,350 Resistance (MΩ) 4.87 ...
See also:
Rear Seat. Components and Components Location
Components 1. Headrest [RH] 2. Headrest guide [RH] 3. Rear seat back cover [RH] 4. Rear seat cushion cover [RH] 5. Cup holder panel assembly 6. Headrest [LH] 7. H ...
Reset items
Items should be reset after the battery has been discharged or the battery has been disconnected. Auto up/down window (See section 4) Sunroof (See section 4) Trip computer (See section 4) ...
Overhead Console Lamp. Repair procedures
Inspection 1. Remove the overhead console lamp (map lamp) assembly then check for continuity between terminals. If the continuity is not as specified, replace the map ...
© 2011-2019 Copyright www.hvmanual.com