Description
Knocking is a phenomenon characterized by undesirable vibration and noise and can cause engine damage. Knock Sensor (KS) is installed on the cylinder block and senses engine knocking.
When knocking occurs, the vibration from the cylinder block is applied as pressure to the piezoelectric element. When a knock occurs, the sensor produces voltage signal. The ECM retards the ignition timing when knocking occurs. If the knocking disappears after retarding the ignition timing, the ECM will advance the ignition timing. This sequential control can improve engine power, torque and fuel economy.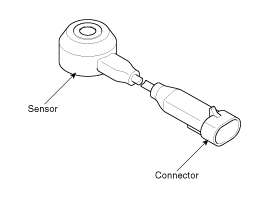 Inspection 1. Check the signal waveform of the CMPS and CKPS using the GDS. Specification: Refer to "Wave Form" ...
Specification Item Specification Capacitance (pF) 950 ~ 1,350 Resistance (MΩ) 4.87 ...
See also:
Rail Pressure Sensor (RPS). Specifications
Specification ...
Tailgate room lamp
The tailgate room lamp comes on when the tailgate is opened. CAUTION The tailgate room lamp comes on as long as the tailgate lid opens. To prevent unnecessary charging system drain, close the ta ...
Closing the trunk
To close the trunk, lower the trunk lid, then press down on it until it locks. To be sure the trunk lid is securely fastened, always check by trying to pull it up again. WARNING The trunk lid sh ...
© 2011-2018 Copyright www.hvmanual.com