Description
The Electronic Throttle Control (ETC) System consists of a throttle body with an integrated control motor and throttle position sensor (TPS). Instead of the traditional throttle cable, an Accelerator Position Sensor (APS) is used to receive driver input. The ECM uses the APS signal to calculate the target throttle angle; the position of the throttle is then adjusted via ECM control of the ETC motor. The TPS signal is used to provide feedback regarding throttle position to the ECM. Using ETC, precise control over throttle position is possible; the need for external cruise control modules/cables is eliminated.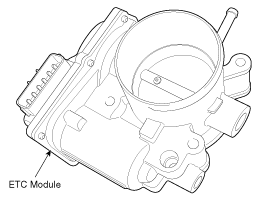 1. Dry bearing




2. DC motor




3. Non-contact hall sensor




4. Gear




5. Magnet




6. Hall IC




7. Yoke




8. Stator



Schematic Diagram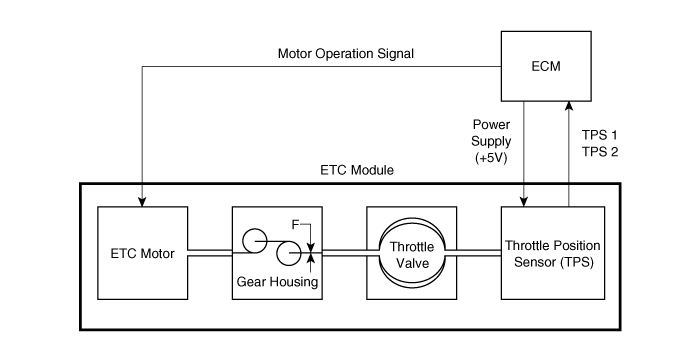 Removal When replacing the ECM, the vehicle equipped with immobilizer must be performed the procedure as below. ...
Fail-Safe Mode Item Fail-Safe ETC Motor Throttle valve stuck at 7° TPS TPS 1 fault ECM looks at TPS2 ...
See also:
Shelf disassembly and installment
1. Disassemble the wires(1) connected to left and right fixed hook. 2. Push the shelf(2) up and disassemble the shelf. 3. To install the shelf, push the shelf down at original position and fix t ...
Climate control air filter
Filter inspection The climate control air filter should be replaced according to the Maintenance Schedule. If the vehicle is operated in severely air-polluted cities or on dusty rough roads for a ...
Glove box lamp
The glove box lamp comes on when the glove box is opened. CAUTION To prevent unnecessary charging system drain, close the glove box securely after using the glove box. ...
© 2011-2019 Copyright www.hvmanual.com