Description
Crankshaft Position Sensor (CKPS) detects the crankshaft position and is one of the most important sensors of the engine control system. If there is no CKPS signal input, the engine may stop because of CKPS signal missing.
This sensor is installed in ladder frame and generates alternating current by magnetic flux field which is made by the sensor and the target wheel when the engine rotates. The target wheel consists of 58 slots and 2 missing slots on 360 CA (Crank Angle). In case of ISG, the ISG function get reliable information about crank shaft position during all modes of operation. The CKPS in ISG function ensures short restarting time for engine and efficient combustion.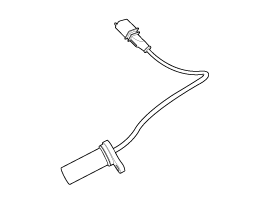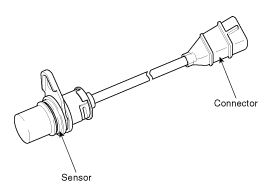 Operation
Two separate differential channels for speed and direction information respectively.
Phase separation of the 2 channels delivers information on rotation direction.

Inspection 1. Turn the ignition switch OFF. 2. Remove the ECTS (Refer to "Removal"). 3. After immers ...
Specification [ISG] Item Specification Coil Resistance (Ω) 774 ~ 946 [20°C (68°F)] ...
See also:
Seat Heater. Schematic Diagrams
Circuit Diagram ...
Child restraint system
Children riding in the car should sit in the rear seat and must always be properly restrained to minimize the risk of injury in an accident, sudden stop or sudden maneuver. According to accident s ...
Parking brake
Applying the parking brake To engage the parking brake, first apply the foot brake and then pull up the parking brake lever as far as possible without pressing the release button. In addition it ...