Description
Camshaft Position Sensor (CMPS) is a hall sensor and detects the camshaft position by using a hall element.
It is related with Crankshaft Position Sensor (CKPS) and detects the piston position of each cylinder which the CKPS can't detect.
The CMPS is installed on engine head cover and uses a target wheel installed on the camshaft. The Cam Position sensor is a hall-effect type sensor. As the target wheel passes the Hall sensor, the magnetic field changes in the sensor. The sensor then switches a signal which creates a square wave.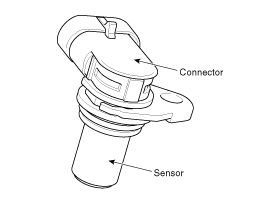 Inspection 1. Check signal waveform of CKPS and CMPS using a GDS. Specification: Refer to "Waveform" Remova ...
See also:
Rear Hub - Carrier. Components and Components Location
Components 1. Rear torsion beam assembly 2. Rear dust cover 3. Rear wheel hub assembly 4. Rear brake disc ...
Fuel Tank Pressure Sensor (FTPS). Description and Operation
Description Fuel Tank Pressure Sensor (FTPS) is a component of the evaporative emission control system and is installed on the fuel tank, the fuel pump, or the canister. It checks the purge ...
Curtain air bag
Curtain air bags are located along both sides of the roof rails above the front and rear doors. They are designed to help protect the heads of the front seat occupants and the rear outboard sea ...
© 2011-2018 Copyright www.hvmanual.com