Description
Camshaft Position Sensor (CMPS) is a hall sensor and detects the camshaft position by using a hall element.
It is related with Crankshaft Position Sensor (CKPS) and detects the piston position of each cylinder which the CKPS can't detect.
The CMPS is installed on engine head cover and uses a target wheel installed on the camshaft. The Cam Position sensor is a hall-effect type sensor. As the target wheel passes the Hall sensor, the magnetic field changes in the sensor. The sensor then switches a signal which creates a square wave.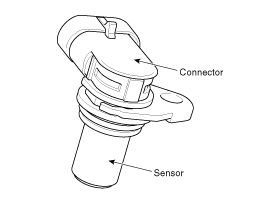 Inspection 1. Check signal waveform of CKPS and CMPS using a GDS. Specification: Refer to "Waveform" Remova ...
See also:
Troubleshooting
Troubleshooting Symptom Possible cause Remedy Tachometer does not operate Cluster fuse (10A) blown Check for short and repl ...
Tilt steering / Tilt and telescope steering
Tilt steering allows you to adjust the steering wheel before you drive. You can also raise it to give your legs more room when you exit and enter the vehicle. The steering wheel should be positione ...
Removing and storing the spare tire
Turn the tire hold-down wing bolt counterclockwise. Store the tire in the reverse order of removal. To prevent the spare tire and tools from "rattling" while the vehicle is in motion, store them ...
© 2011-2019 Copyright www.hvmanual.com